ANT PEST CONTROL SCHAUMBURG
Cockroaches are commonly found outdoors in moist, dark locations. When conditions become unfavorable, "Water Bugs" are known to come inside seeking more pleasant temperatures, sources of water and food for their offspring. Treatment begins with a licensed technician providing a full inspection of your property. During the inspection, our technician will identify potential problem areas around your home or office. After the source of your problem areas have been identified, our technician will create a customized cockroach treatment plan which will eliminate all live cockroaches. We'll suggest treatment options which provide year-round protection, using the most effective and environmentally-conscious cockroach control solutions.
After your home or office has been readied for service, we will begin our two part cockroach service. Initial treatment consists of low toxicity, non-repellent chemicals which are undetectable to cockroaches. The treatment covers the affected roaches as they travel and is transferred from cockroach to cockroach, killing the colony just like a virus. In conjunction with low toxicity transferable pesticides, we also utilize gel baits which work similarly to our non-repellent spray. After your initial treatment, a technician will return to inspect your property for remaining signs of cockroach activity, applying bait where it is appropriate. After treatment, we require all treated areas to remain exceptionally clean and uncluttered to ensure total knockdown.
Cockroach Treatment Methods
Depending on the severity of infestation, we use a variety of methods to offer complete roach control; spray pesticide, growth regulator and targeted baits. Bait is a scented gel pesticide that the cockroaches eat and share with the colony. Spraying leaves a residual pesticide behind which the cockroaches travel over to pick up a lethal dose. Growth regulator is a hormone disruptor that affects the cockroaches ability to reproduce and grow. In effect, a cockroach sheds its skin like a snake and growth regulator blocks the pest's ability to perform this task effectively.
Serving Cook & Dupage Counties
Top Rated

Cockroach Control

Service in Schaumburg
Are you seeing cockroaches around your home? Your time is valuable. Quotes are fast and free. Don't wait, call us today!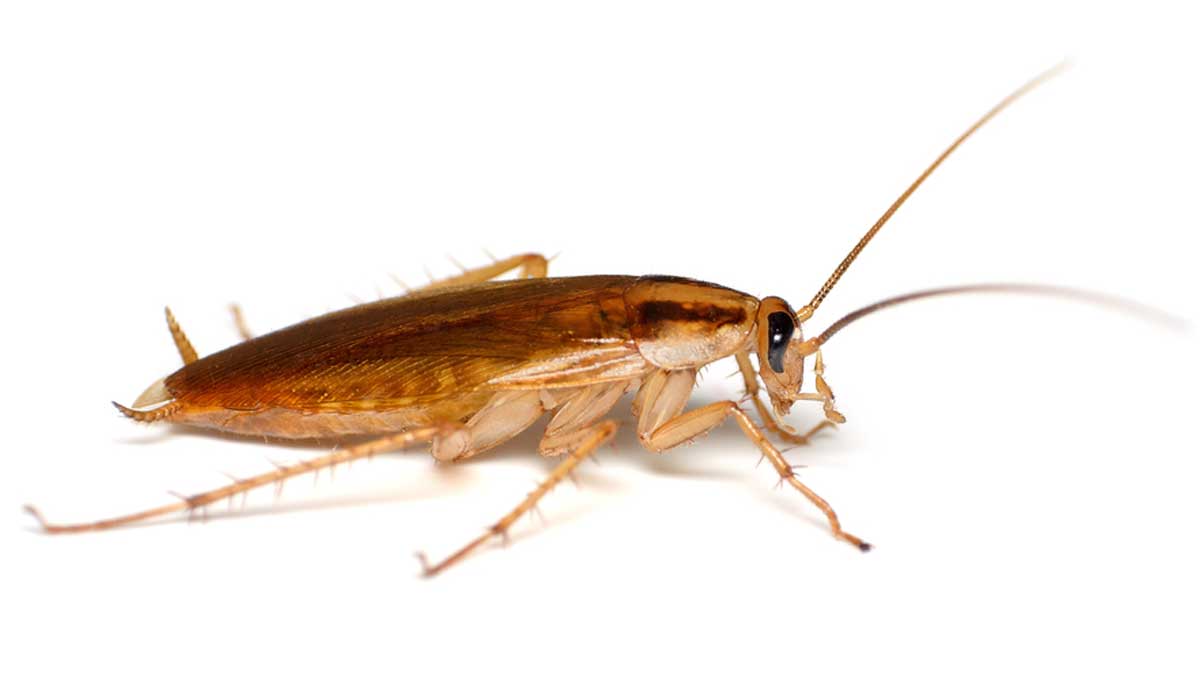 The largest of the house-infesting cockroaches and is generally a solitary insect. They are typically found in food processing and food storage areas of a structure. American Cockroaches are often found in sewers and basements, particularly around pipes and drains. They are active when the temperature is 70 degrees or higher, but they can survive lower temperatures with the right conditions.
The brown-banded cockroach is very common all around the United States. The brown-banded cockroach eats a wide variety of items, often almost anything organic, including decaying matter. They need less moisture than other cockroaches so they tend to be more broadly distributed in the home, such as in living rooms and bedrooms. They can often be found in homes and apartments, but are less common in restaurants. They tend not to be found in the daytime, since they avoid light. These cockroaches have been known to cause problems in hospitals by emerging at night to feed on bodily fluids, thereby risking cross-infection.
The German cockroach is the most common cockroach species in houses, apartments, restaurants, hotels, and other institutions throughout the United States. They are active mostly at night but hide in dark crevices during the day. If German cockroaches are seen during the day, the population is probably so large that the available cracks are already full, or food and moisture are in such short supply that daytime foraging is necessary. The German cockroach is a general feeder but is particularly attracted to fermented foods and beverage residues. Infestations are sometimes found in areas not generally suspected of harboring German cockroaches, such as dresser drawers in bedrooms. German cockroaches found scattered through non-food areas of a home or building is usually a sign of a very heavy infestation or of the repellent effects of insecticide applications elsewhere in the facility.
Oriental Cockroaches are large very dark (almost black, but sometimes dark reddish-brown), shiny cockroaches which live in sewers and similar wet, decaying organic matter. This species of cockroach often travels through sewer pipes. It survives on filth and enjoys temperatures from 68 to 84 degrees. This is a cooler temperature than that preferred by other cockroach species. They can also be found in leaf piles and firewood outdoors. They are sometimes called "water bugs" because they come out of drains, and "black beetle cockroaches" because of their smooth, dark bodies. Males are about 1 inch long, with wings that cover only about 3/4 of their abdomen; females are about 1 1/4 inch long, and have only short stubs of wing pads.
Top Rated

Cockroach Extermination

Service in Schaumburg
Are you seeing cockroaches on your property? Your time is valuable. Quotes are fast and free. Don't wait, call us today!
Christopher McAllister
2022-12-27
Excellent service. I have been a realtor for 20 years, and I needed a termite inspection for a V.A. Loan on a house I had listed. They came out in a timely matter and even handled all the lenders' questions after the report was submitted. Excellent service and reasonably priced. The owner, Chris, answered the phone when we had questions and also communicated via email. I would highly recommend them.
Quintin Crawford
2022-12-08
We were mortified to find a mouse in our finished basement. My wife wanted to do anything we could to address the problem. This was the Friday night after Thanksgiving so I was not optimistic we could get anyone ASAP. My wife left a message with Bigfoot and 8:30am the next morning I got a call from Chris! He went over our whole situation and even offered to come out that morning when he could tell how concerned we were and how we needed someone ASAP. Chris could not have been nicer or more helpful with us. He did a full inspection and offered great detail on what we are dealing with. He answered every single crazy question my wife had and he did it calmly and with reassurance. Chris took care of our situation and put our minds at easy. I cannot thank him enough and recommended Bigfoot enough! Definitely work with someone local before you call some big chain!
First mouse in the house! We had no idea what to do after finding our kitchen tore up from these little guys. I mean full on panic. I am so thankful we didn't call a chain company that would have most definitely ripped us off! We called Bigfoot and Chris, who I'm pretty sure is the owner, spent time explaining what to expect and what the cost would be. Shocking, I know. A business that is upfront with pricing and processes?! Amazing. It's obvious these people run an honest business and don't take advantage of customers desperation. Luis came to the house that same day. He was polite, funny, thorough and KNOWLEDGEABLE. The anxiety I had dealing with this for days had quickly disappeared after he checked every relevant corner of my home for entry points and signs of more critters. I haven't seen a mouse in days after the service. Bottom line: 1. Check your screen door for holes 2. If you're unlucky enough to have a pest problem and don't want to lose your shirt in a pointless contract, CALL BIGFOOT PEST CONTROL! *also, tip your tech 😊 it's nice to be nice and these guys really go above and beyond. Good luck!
Vicki Rybarczyk
2022-10-17
So far so GREAT! I contacted Chris with a concern I had and he had Luis, the technician, out to my house within 15 minutes. Luis was kind, personable and most of all, thorough! I feel good about my choice of Bigfoot Pest Control! I know if I call back for any additional support, I can count on them. Thank you!
April D. Nieves
2022-09-02
You will not be disappointed with the quality of customer service and professionalism you get from the team. They are great to work with and I highly recommend them.
Luis was fantastic!! He explained the process, sprayed and then came back to check if everything was ok. Professional, respectful and just a delight to work with. The owner Chris was also very responsive and helpful. Highly recommend Bigfoot Pest Control!!
Luis came out to do an inspection and was thorough. He found areas that mice could be getting in that we didn't think of checking and sure enough found droppings. Luis was very personable and professional and patient with any concerns or questions I had. Also when calling for service Chris was great and very responsive, they are the reason for their high ratings. I called another pest control company prior and never received a call back so I'm glad I went with Bigfoot Pest Control.